The moon

lives on Telegram and was born after some confusion about moon phases and jokes with Josh about needing reminders for Lunar Sprints.
You can meet her here https://t.me/LunarPhase_bot
It's just a baby still, responding to some basic commands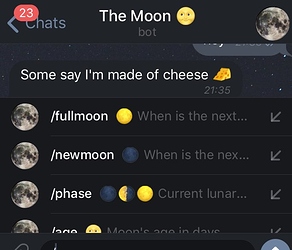 What else could we teach our Moon to do to help out on the hackalongs?
According to Telegram Api it can Do virtually anything. Except for dishes — bots are terrible at doing the dishes.
What would be helpful?

Could link it up to discourse API and /bookmark shared links from Hackalong chat directly to a designated forum thread.
Any other ideas?